Introduction
In the vast world of WordPress themes, finding the perfect one for your WooCommerce website can be a daunting task. However, with the WoodMart WordPress theme, you can unlock a world of possibilities and unleash the full potential of your online store. In this comprehensive guide, we will explore everything you need to know about buying and harnessing the power of the WoodMart theme to create a captivating and successful WooCommerce site.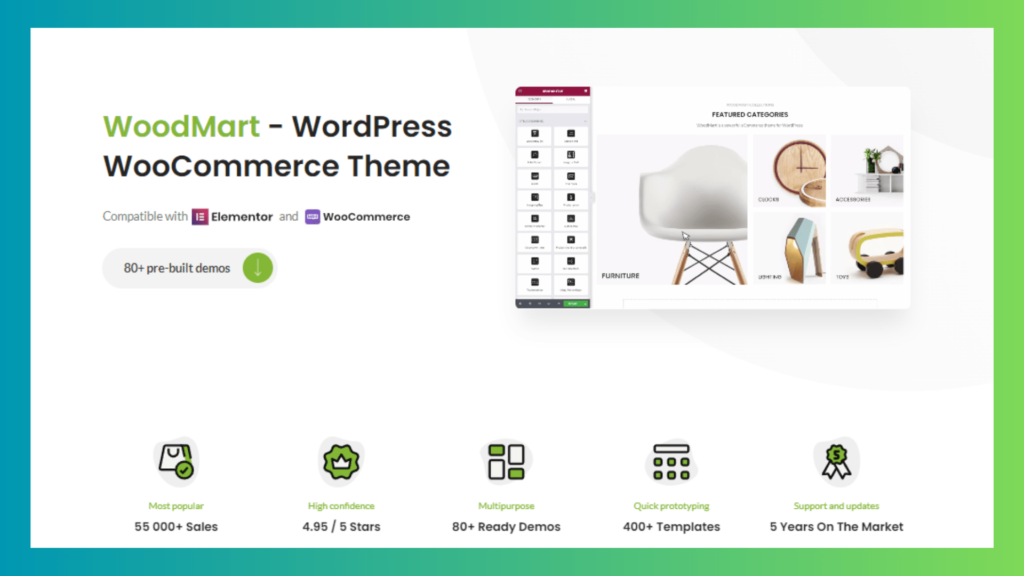 Understanding WoodMart Theme
WoodMart is a feature-rich and highly customizable WordPress theme designed specifically for WooCommerce websites. With its extensive range of functionalities, WoodMart offers seamless integration with WooCommerce, empowering you to create stunning and professional online stores. Let's delve deeper into what makes WoodMart an exceptional choice for your e-commerce venture.
Customization Options in WoodMart
One of the standout features of WoodMart is its remarkable customization options. With a user-friendly and intuitive interface, you can easily personalize your website to reflect your brand identity and captivate your audience. From customizing headers and footers to tweaking colors, typography, and layouts, WoodMart puts the power of design in your hands.
The theme's comprehensive customization panel allows you to effortlessly fine-tune every aspect of your online store. Whether you're looking to create unique product pages, stunning category layouts, or a visually appealing blog section, WoodMart provides the flexibility and tools to bring your vision to life.
Key Features of WoodMart Theme
WoodMart boasts a wide range of essential features that enhance the functionality and aesthetics of your WooCommerce store. Let's take a closer look at some of its key features:
1. Advanced Product Filtering: WoodMart offers a robust product filtering system, enabling your customers to find the products they desire easily. With multiple filtering options and a user-friendly interface, you can enhance the browsing experience and increase conversion rates.
2. Product Quick View and AJAX Search: WoodMart simplifies the product discovery process with its quick view feature, allowing customers to view product details without leaving the current page. The AJAX search functionality enables swift and accurate search results, enhancing user convenience.
3. Built-in Mega Menu: WoodMart includes built-in Mega Menu functionality, empowering you to create intuitive and visually appealing navigation menus. Seamlessly showcase categories, subcategories, and product highlights, providing a delightful browsing experience for your customers.
4. Personalized User Experience: WoodMart offers unique features like catalog mode, wishlist integration, and recently viewed products, allowing you to provide a personalized shopping experience to your customers. These features enhance user engagement and encourage repeat visits and purchases.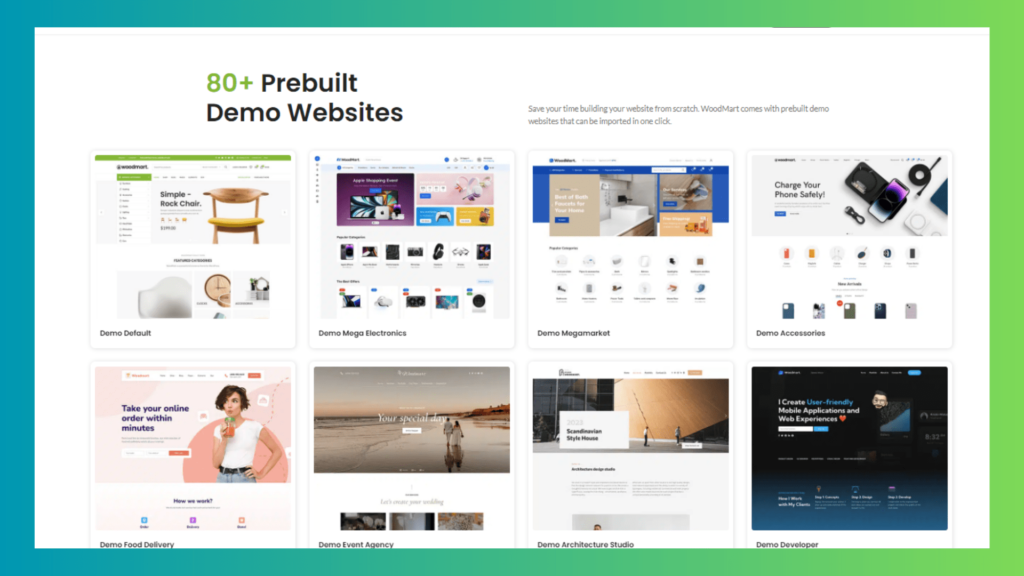 WoodMart Theme Setup and Configuration
Getting started with WoodMart is a breeze. Follow these steps to set up and configure the theme on your WordPress site:
1. Installation: Purchase the WoodMart theme and download the theme files. From your WordPress dashboard, navigate to Appearance > Themes, click on "Add New," and upload the theme files. Activate the WoodMart theme.
2. Theme Setup: Once activated, the WoodMart theme will guide you through a step-by-step setup process. This includes importing demo content and configuring essential settings to match your desired layout and design.
3. WooCommerce Integration: As WoodMart is specifically designed for WooCommerce, the theme seamlessly integrates with the popular e-commerce plugin. Set up and configure WooCommerce to start selling your products effectively.
4. Optimization: To ensure optimal performance, consider optimizing your WoodMart theme. This includes caching, optimizing images, and minifying CSS and JavaScript files. Additionally, select a reliable hosting provider for fast loading speeds.
Extending WoodMart with Plugins and Add-ons
To further extend the functionality of WoodMart, you can leverage a wide range of compatible plugins and add-ons.
Here are some popular options to consider:
1. WooCommerce Extensions: Enhance your online store with WooCommerce extensions like WooCommerce Subscriptions, WooCommerce Bookings, or WooCommerce Product Bundles. These extensions add advanced features and increase the versatility of your store.
2. Page Builders: WoodMart seamlessly integrates with popular page builders like Elementor, WPBakery, and Beaver Builder. Utilize these page builders to create custom layouts and designs effortlessly.
3. Additional Plugins: Explore plugins like Yoast SEO for search engine optimization, WPML for multilingual support, or OptinMonster for lead generation. These plugins can further enhance your website's functionality and user experience.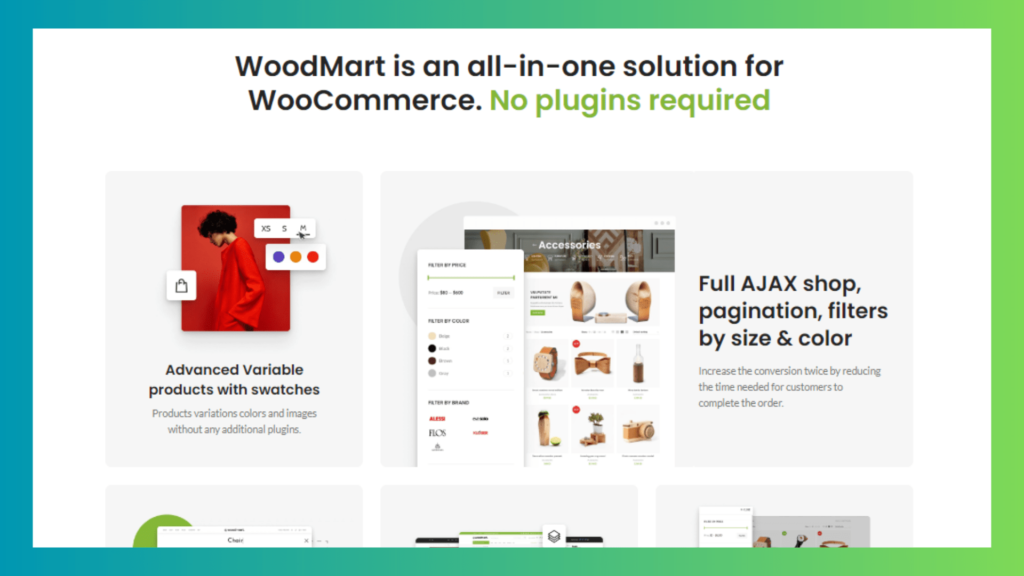 Customer Support and Documentation
WoodMart prioritizes customer support, ensuring that you receive assistance whenever needed. The theme developers provide multiple support options, including documentation, forums, and dedicated customer support channels. Their prompt responses and regular updates ensure that your WoodMart experience remains smooth and hassle-free.
Pricing and License Options
WoodMart offers flexible pricing and license options to accommodate various needs. The theme is available for purchase on ThemeForest, with different licenses based on your requirements. Consider the benefits and limitations of each license type to make an informed decision that aligns with your budget and plans.
Unleash the Power of WoodMart for Your WooCommerce Store Today!
Conclusion
In this comprehensive guide, we've explored the ins and outs of the WoodMart WordPress theme, a powerful tool for creating stunning WooCommerce stores. From understanding its features and customization options to setup, optimization, and extending functionality through plugins, WoodMart offers an all-in-one solution for your online business needs.
Leap and unlock the full potential of WoodMart to create a captivating and successful WooCommerce store. Empower your brand, engage your customers, and drive conversions with the remarkable features and flexibility of the WoodMart theme.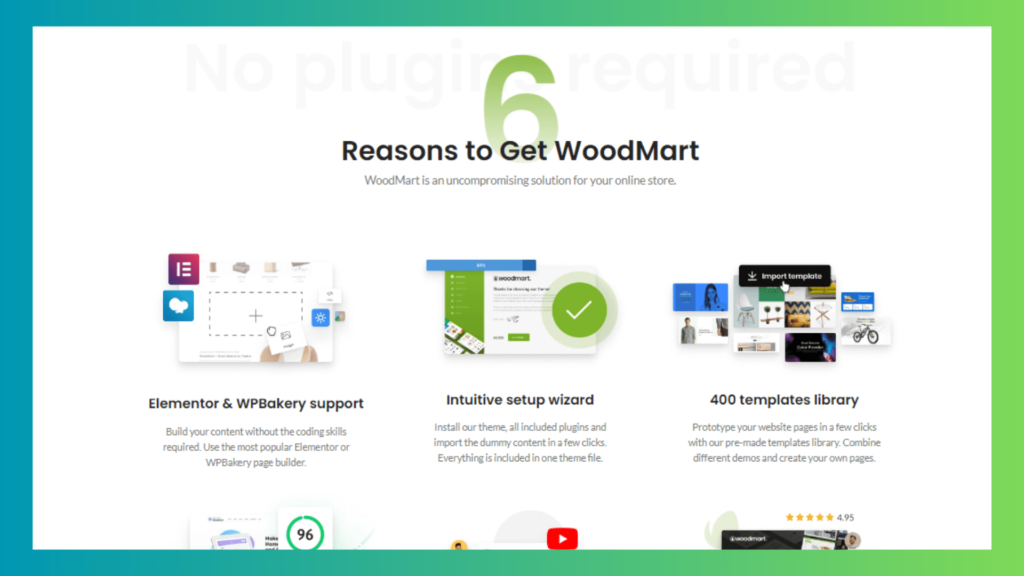 FAQs (Frequently Asked Questions)
Q1: Is WoodMart compatible with all WooCommerce plugins?
A: WoodMart is designed to be compatible with most WooCommerce plugins. However, it's always recommended to check the compatibility of specific plugins before installation.
Q2: Can I import WoodMart demo content into my website?
A: Yes, WoodMart provides demo content that can be imported to help you get started quickly. The theme setup process guides you through this importation.
Q3: How often is WoodMart updated?
A: WoodMart receives regular updates from the developers to ensure compatibility with the latest versions of WordPress and WooCommerce. Stay updated by regularly checking for new updates within your WordPress dashboard.
Q4: Does WoodMart offer responsive design for mobile devices?
A: Yes, WoodMart is built with responsiveness in mind. It ensures that your website looks and functions flawlessly across various devices, including mobile phones and tablets.
Q5: What if I need support while using WoodMart?
A: WoodMart offers dedicated customer support through its official channels. You can access their documentation, and forums, or reach out to their support team for assistance with any queries or issues.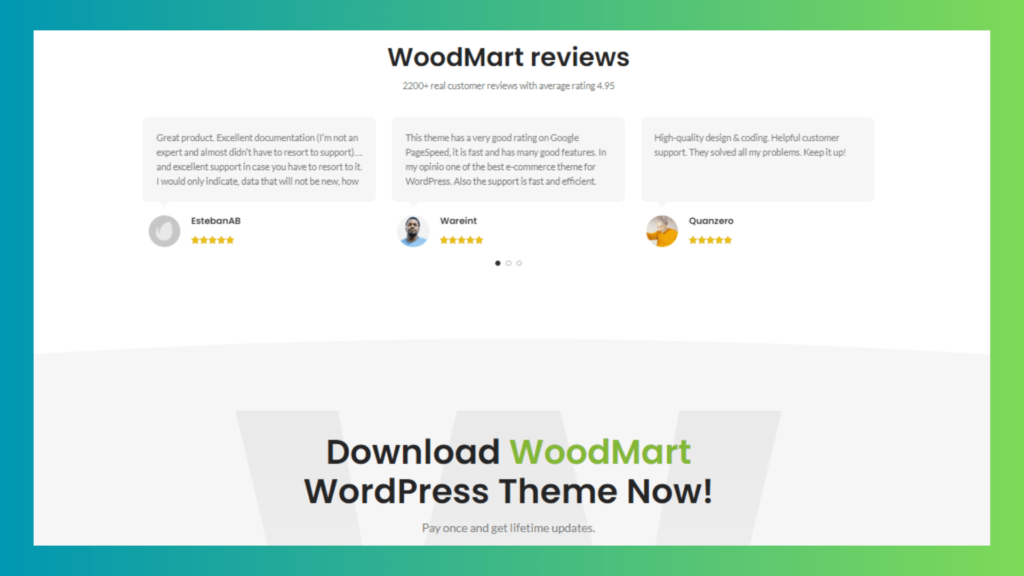 Remember, when buying the WoodMart theme, you're not just purchasing a WordPress but you're investing in a power that can help you create a visually stunning and highly functional WooCommerce store. Unlock the power of WoodMart and watch your online business thrive!
Quick Access Buy the Best WordPress theme and plugins available:
Astra Pro: Buy Now
Divi Theme: Buy Now
Elementor Pro: Buy Now